-More 80s Flashback Radio and Internet-


Former MTV jock, Nina Blackwood and her New Wave Nation show is available as a free iTunes podcast.


---

91X (XTRA 91.1 FM) out of San Diego has a Sunday morning flashback show called Sunday Resurrection from 6 am to 10 am.



---

Sirius Radio channel 22 features 80s programming like "1st Wave Rewind", "Dark Wave" and "Saturday Night Safety Dance". The Sirius "Firstwave" channel features DJs such as Swedish Egil, Richard Blade and Dave Kendall spinning Depeche Mode, The Smiths, The Cure, Peter Murphy, New Order, Moz, INXS, TFF, Pet Shop Boys, Siouxsie, The Clash and many others.

Firstwave on Sirius Radio

On Sirius Radio channel 8 Original MTV VJ Martha Quinn brings her love of '80s music to SIRIUS-XM listeners! Every Saturday at 8 am ET, Martha gets back in the studio and back to a time when "M" stood for music, playing the songs that defined a decade, and bringing her own personal perspective on the biggest pop and rock artists that she experienced firsthand.

80s On 8


---

Cox cable in Orange County offers 80's music on cable channel 923.


---

Miss the old KROQ? KROQ HD 2 can be streamed to your computer by clicking here: KROQ HD II- The Roq Of The 80's

If you are registered for Live365 you can also listen to KROQ Classics- 80's.


---

80's TV

On cable TV, VH1 has two hit series with eighties themes. "I Love The 80's" takes a humorous look at 80's fads and trivia. VH1's other offering, "Bands Reunited", is a reality show where the challenge is to reunite former members of great 80's bands for a one time concert.

VH1 took aim at reuniting The Alarm, A Flock Of Seagulls, Dramarama, Romeo Void, Squeeze, The English Beat, The Motels and others. One of the reunited bands from last year, Berlin, was jetted to Los Angeles for a one-night sold out gig at the Roxy. This was the very first venue they played after signing with Geffen Records over two decades ago. Berlin has since continued to tour and has released a new album.




In April 2013, National Geographic channel premieres "The '80s: The Decade That Made Us" a six-part miniseries event narrated by Rob Lowe. National Geographic Channel- The '80s: The Decade That Made Us
---

-80's Dance Clubs- in Southern California

"Eighties Night" has become a popular dance club promotion.

Club Bang, Club Addiction and Club Beat It are located in Los Angeles.

New Wave Restaurant & Bar (Lakewood) is an all 80s themed Establishment. Their motto is "Experience the 80's"!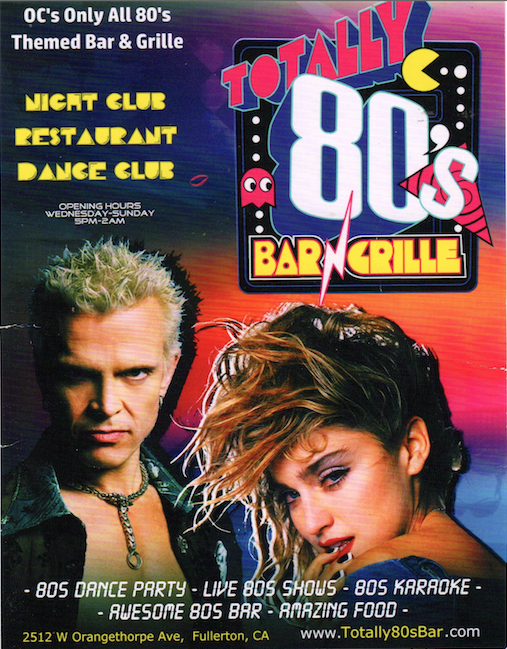 Totally 80s Bar And Grill (Fullerton) in Orange County has become a busy party scene as well. Check out the Totally 80s web page.





For live music, check out Flashback Heart Attack, "The Premiere 80s Tribute Band" www.flashbackheartattack.com


- DJ Craig

For more information about Flashback 80s and New Wave/Punk Music, see the links on the left of this page.


To schedule an appointment with DJ Craig or inquire about date availability, please call 949.362.3535.







The contents of this page are proprietary and exclusive property of DJ Craig. Any unauthorized use or reproduction without express written consent is prohibited.



Copyright © 2005-2014, Creative / DJ Craig / djcraig.net

All rights reserved.

DJ Craig.Net Is Music For 80s parties and special party events.

California Orange County Los Angeles 80s New Wave Music Radio and Clubs